App

Development

in

Portsmouth

Hampshire
Android & IOS App Development from £349.99
Apps Developed in Portsmouth
Welcome to Creation Web, your premier destination for top-quality app development in Portsmouth, Hampshire. We specialize in building custom apps that cater to the unique needs of businesses across various industries. With our expertise and commitment to excellence, we ensure that your app stands out in the crowded digital landscape.
At Creation Web, we believe in delivering tailor-made solutions to meet your specific business requirements. Whether you need a feature-rich app to enhance your customer engagement or a robust platform to streamline internal processes, our dedicated team of app developers is ready to bring your vision to life.
Learn more
Get a quote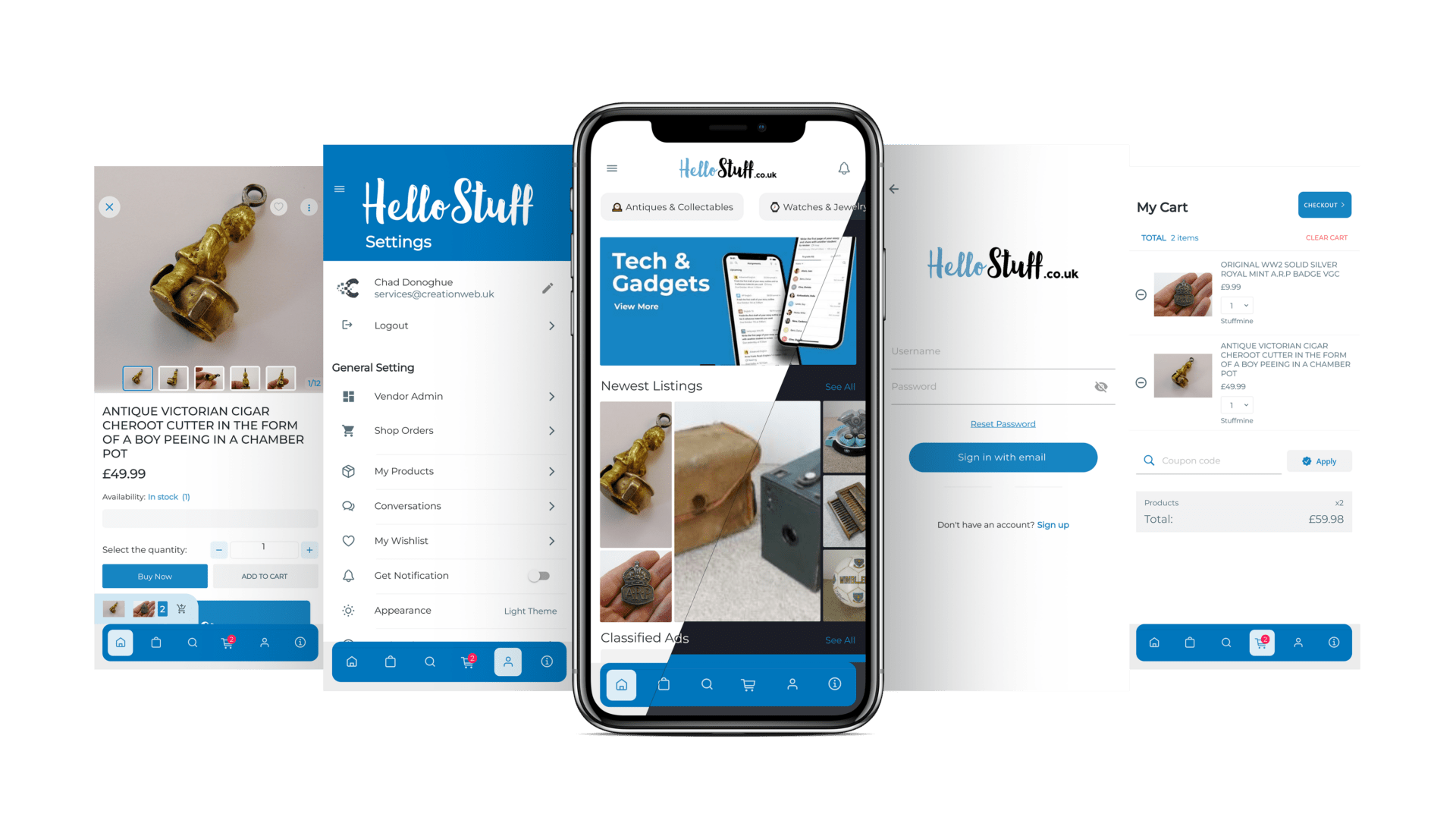 E-commerce Apps
Create a mobile platform for businesses to sell their products or services online, providing a seamless shopping experience to customers.
Social Networking Apps
Develop interactive and engaging social media applications that allow users to connect, share content, and communicate with others.
On-Demand Service Apps
Build apps that connect service providers with users in need of various services, such as food delivery, home cleaning, transportation, and more.
Booking and Reservation Apps
Design apps that simplify the process of booking appointments, reservations, tickets, or accommodations for businesses in various industries, such as hotels, restaurants, salons, and event venues.
Fitness and Wellness Apps
Create apps that offer fitness routines, exercise tracking, nutrition plans, meditation guides, and other wellness-related features to help users improve their well-being.
Educational Apps
Develop interactive learning platforms, language learning apps, e-learning tools, or educational games to facilitate knowledge acquisition for students of all ages.
Travel and Tourism Apps
Build apps that provide travel information, itinerary planning, hotel and flight bookings, navigation assistance, and local attractions recommendations to enhance the travel experience.
Entertainment and Media Apps
Create multimedia apps for streaming music, videos, podcasts, or news content, providing users with a seamless entertainment experience.
Productivity and Utility Apps
Develop apps that enhance productivity, such as task managers, note-taking apps, file storage and sharing platforms, language translators, or barcode scanners.
Why Choose us for App Development in Portsmouth
Advanced features combined with a large display, fast performance, and highly calibrated sensors have always made uniquely capable.
Expertise in Flutter
We are proud to be at the forefront of app development technology, utilizing Flutter to create cross-platform applications that work seamlessly on both iOS and Android devices. This ensures maximum reach for your app without compromising on performance or user experience.
Affordable Pricing
We understand that cost is a crucial factor for businesses of all sizes. That's why we offer competitive pricing starting from just £349.99, making high-quality app development accessible to everyone. Rest assured, our pricing packages are transparent and tailored to your specific project requirements.
Custom Solutions
We believe that every business is unique, and your app should reflect that. Our team takes the time to understand your goals, target audience, and branding guidelines to develop a custom app that aligns perfectly with your business objectives. We pay attention to every detail, ensuring that your app is intuitive, visually appealing, and functional.
Seamless User Experience
We prioritize user experience and design intuitive interfaces that keep your users engaged and delighted. Our team combines cutting-edge design principles with industry best practices to create apps that are easy to navigate, visually stunning, and optimized for performance.
Dedicated Support
We believe in building long-term relationships with our clients. Even after the app development process is complete, we provide ongoing support and maintenance to ensure that your app remains up-to-date, secure, and fully functional.
Take the first step towards transforming your business with a powerful mobile app. Contact us today to discuss your project requirements, and our team will guide you through the entire app development process. Together, we can create a digital solution that elevates your business to new heights.